Our Mission
Opportunity Village commits to excellence in service to individuals with disabilities.
Our Values
Ministry
We continue to honor the Christian principles on which the Village was founded, that all people are created in God's image and worthy of respect.
Individuality
We are responsive to each individual's needs and preferences.
Dignity
We treat everyone with love, respect and patience.
Diversity
We encourage freedom of choice by offering diverse and flexible services.
Quality
Our trained staff provide professional services, working as a team with individuals and their families.
Advocacy
We advocate for people with disabilities at the local, state and national level.
Accountability
We are good stewards of the public trust, offering cost effective services that ensure the long-term future of the Village.
Simplicity
We value communication, common sense and simplicity over excessive policy and bureaucracy.
Our History
A group of Clear Lake people came together in the 1960s with a common purpose: to create a caring home for adults with disabilities as an alternative to state institutions.  This nucleus included parents of grown children with disabilities, a pastor, a physical therapist, and others who simply understood the desperate need of families. 
On Nov. 21, 1966, Handicap Village was incorporated as a private, non-profit, charitable organization.  In 1969, the Village purchased 80 acres of land in Clear Lake, Iowa, with the help of donations from the community.  Donald A. Boyer was hired as the first Executive Director in November of that year.
Groundbreaking for the first cottage home took place on Oct. 5, 1970, and Pioneer Cottage opened on Sept. 15, 1971.
A narrative history of the early years of Handicap Village is available in the book "Miracle of the '70s" by Arlene Lashier. 
The name changed from "Handicap Village" to "Opportunity Village" in 1994, to better reflect the Village mission.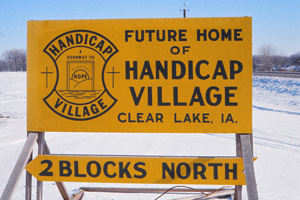 Delve into Opportunity Village's history with this timeline of important events.