Map and Directions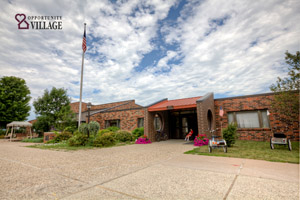 Coming to our main office? Here's the information you'll need. We look forward to your visit.
Primary Location
1200 N 9th St W
PO Box 622
Clear Lake, IA 50428

Phone 641-357-5277
Fax 641-357-6471
Contact information@oppvill.org
The main office in our Kinney-Lindstrom Center is open 8 a.m. to 4:30 p.m. weekdays.
Centers of Service
Opportunity Village provides supports and services in nearly 30 communities around the northern part of Iowa.  Offices are located in the following communities.
Eagle Grove

605 E. Broadway St.
Eagle Grove, IA 50533
(515) 448-5464

Fort Dodge

1470 21st Ave. N.
Fort Dodge, IA 50501
(515) 573-8243

Humboldt

620 Sumner Ave.
Humboldt, IA 50548
(641) 604-6104

Mason City

203 2nd St. NW
PO Box 779
Mason City, IA 50401
(641) 423-1060

Webster City

707 Prospect St.
Webster City, IA 50595
(515) 823-9620