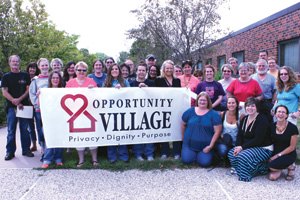 We Want You!
Looking for a job that offers meaningful work?  What could be more worthwhile than improving the lives of fellow Iowans?  At Opportunity Village, you'll find purpose through service to others.  Your co-workers and the people you serve become like family, in a caring and friendly atmosphere.
Opportunity Village offers employment in many areas of service, throughout North Iowa.  We are the largest employer based in Clear Lake, with more than 600 full- and part-time employees. Village employees work in many communities beyond Clear Lake, including Mason City, Garner, Forest City, Osage, Eagle Grove, Webster City, Fort Dodge, and Humboldt.
We offer competitive salary, benefits, and excellent working conditions.  Openings for Personal Assistant or Personal Assistant Certified Med-Aide are generally available on an on-going basis.  Other specific job openings will be posted here under "Job Openings" as they develop.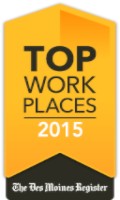 Opportunity Village has been selected as one of Iowa's Top 100 Workplaces for 2014 and 2015. The Top Workplaces are determined based solely on employee feedback. The Village ranked as number 17th and 20th in respective years on the Top 100 Workplaces list, according to the complete list published in the Des Moines Register.
You can belong to this amazing organization with a mission to serve people with disabilities. Explore this section to find out more about employment at Opportunity Village throughout northern Iowa.