Hire Our Workers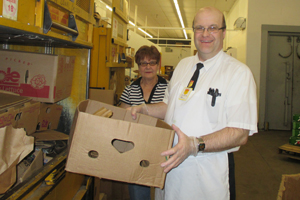 If you're an employer, the Village can help solve your needs! 
Whether you're looking for a hard-working, dependable employee or need a quality workforce to contract for a specific job, Opportunity Village offers success for you and for our workers.
Hiring an individual for work at your site brings you an employee with motivation, loyalty, and the training support of our job coaches.
We also contract with businesses to handle manpower needs such as small assembly and packaging, mailings, document destruction, and more. Our work center in Clear Lake and Northwoods Products and Services (NPS) in Fort Dodge can get your job done for less, with quality supervision by staff.  Your job also helps us provide meaningful, paying jobs for individuals with disabilities.
For more information about how we can meet your workforce needs, e-mail Dana Goates, Employment Coordinator, or call her at (641) 355-1208.