Hear Our Stories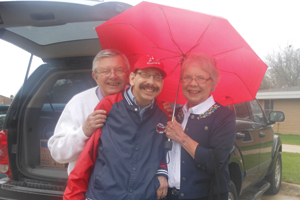 Want to know what we really do here at Opportunity Village? Not just the number of vegetables we grow or how many staff we employ. That might be important, but what really gets you are the stories. How is an individual's life changed by Opportunity Village?

Join us for a tour that is not your ordinary tour.  It's a tour of the stories. Hear from people who've experienced firsthand how the Village supports success at home, at work, and in the community. Your tour might be at our location or yours. We can come to you!

Whether you are a Village supporter from way back or have never known anything about what we do, you'll be drawn into these personal stories of the Village mission. Find out how Opportunity Village empowers individuals to achieve success at home, at work, and in the community.

"Until you come and witness and feel the love and care that goes on and the smiles on people's faces, you have not truly experienced the Village," Dennis Van Gorkum, a former Village Board member, commented after attending a tour. "It is a tremendous educational and uplifting event. I could feel the warmth, I was uplifted, and it put me in a positive mood."

Ann Longobardi, a dedicated Village volunteer, said the experience presented "the heartbeat of the Village."

If you're interested in experiencing our mission, to hear our stories, please contact Jennifer Pinske, Development Officer, at 641-355-1356.