Spiritual Life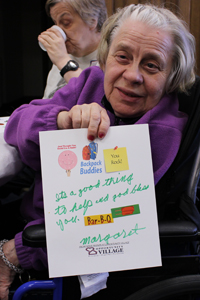 The Village believes that spiritual expression is part of a healthy life, as much as physical, mental, and emotional well-being. 
For this reason, we created the position of spiritual resources coordinator, held by Pastor Scott Sokol.  His job is to support the individuals we serve who want a spiritual component to their lives.
This might mean attending a local worship congregation in their community; joining in a Spiritual Life service every Tuesday on Village grounds; or participating in a small sing-along of favorite hymns with friends.
Pastor Scott serves as a liaison with area pastors, to help individuals become part of worship communities as much as possible.  He also offers comfort and support to people we serve and their families when a loved one is hospitalized or dies. He organizes Spiritual Life retreats twice a year, bringing individuals together for praise, contemplation, and service projects.
Another important part of his job is communicating with staff, encouraging them to ask and discern the spiritual needs of the people they work with. That might include finding out their faith history, such as whether they attended church with their families while growing up.

This service of the Village is completely funded by private donations.  Gifts to this fund will help sustain the Spiritual Life program at Opportunity Village.
Volunteers also are welcome! Pastor Scott appreciates help with Spiritual Life groups in various communities, at retreats, or as guest speakers.
You're also encouraged to welcome individuals to your house of worship. Pastor Scott would be glad to talk with you or your organization about ways you can include persons with disabilities in your congregation.

For more information about the Spiritual Life program, e-mail Pastor Scott Sokol or call him at (641) 355-1336.