In the Community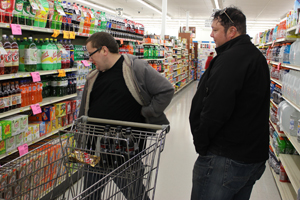 What do you do when you're not working? Live!
Opportunity Village supports individuals with disabilities to achieve success in the communities where they live and the wider world.  Success for some might mean volunteering at a local community kitchen or at a state park picking up trash. For another, it may mean going to the grocery store like everyone else in town, to choose favorite items and pay for them. 
Some people like the creative life and enjoy visiting a museum or taking a crafts class. Others rock out at a local concert. 
Instead of cookie-cutter services, the Village talks to the person and family to determine what he or she likes to do, what's important to them, and then matches up interests with activities.
Everything revolves around the home, so staff who support individuals in their homes or apartments help them plan their day. Transportation may be provided by the staff, or the individual might learn to use the local taxi or bus service.
Our goal is to help people realize their personal potential, explore all that their community offers, and learn life skills to be as independent as possible.