At Home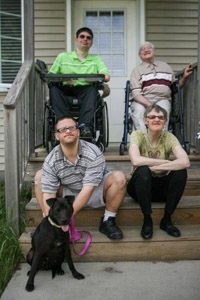 Everything starts at home.  You start your day there, plan your activities, go to work, then come home again at night to settle in.
Opportunity Village helps individuals with disabilities to find affordable, safe, and comfortable homes in Iowa communities of their choice. Village staff support each person to live as independently as possible, while providing appropriate assistance based on individual needs.
For a child, it could mean having a Village staff member come to their family home to teach daily living skills.  For an adult, the Village can help them live independently in an apartment or home in a local neighborhood of their community.  For someone who needs more support, we offer 24-hour-a-day supervision in a home.  The options differ in size and location, in the degree of independence or supervision, and the amount of support.
Village services reach into more than 30 Iowa communities, including Clear Lake, Mason City, Garner, Forest City, Osage, Eagle Grove, Webster City, Fort Dodge, and Humboldt.
For more information about services at Opportunity Village, please e-mail Heather Curtis, Service Coordinator, or call her at (641) 355-1248.