At Work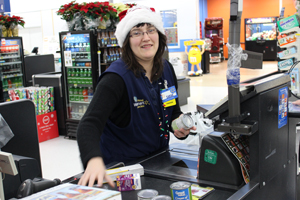 Work gives us purpose, self-respect, and income. Employment helps each of us participate actively in our communities by serving others.
Opportunity Village supports individuals with disabilities to achieve success at work. It starts with discovery. We get to know a person outside of work, look at their home environment, find out when and where they are at their best, and assess skills and interests. Then we offer training to improve skills and the opportunity to learn about different types of work by visiting businesses or trying out a job for ten days.
The Village supports workers to get and keep jobs in local businesses. A Village job coach may be provided to help a worker learn a job and maintain it over time. We often work in partnership with the Iowa Vocational Rehabilitation Services (IVRS) which provides referrals and funding.
If you are an employer, Opportunity Village can help meet your needs for dependable, qualified employees or a specialized work force.
For more information about employment services offered by Opportunity Village, e-mail Dana Goates, Employment Coordinator, or call her at 641-355-1208.