"Supporting Success" Luncheons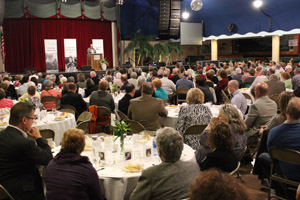 Opportunity Village's "Supporting Success" luncheons held in Mason City and Fort Dodge bring together 300 people in the spring to celebrate inspirational personal achievements.
The invitation-only, one-hour fundraising events brim with positive energy! Families and individuals share their stories of achieving success at home, at work, and in their communities through your support of the Village.
Two luncheons will be held in 2017.
The Clear Lake/Mason City luncheon will be held May 2 from 12-1 p.m. at Columbia Club in Mason City. For more information, contact Sue Platts at 641-425-6907.
The Fort Dodge luncheon will take place May 23 from 12-1 p.m. at the Fort Dodge Opera House. For more information, contact Jennifer Pinske at 641-355-1356.
If you want to be a part of "Supporting Success" for people with disabilities, contact Jennifer Pinske, development officer.